The Rosaire's roots are deeply embedded in circus tradition. Their forefathers were court jesters, acrobats and animal trainers who traveled through the villages of Europe captivating audiences with their family side shows and wild animal menageries. However, the circus life of their ancestors is a very different one today. Major declines in audience attendance and increasing, yet legitimate concerns for animal welfare have greatly impacted the Rosaire's traditional way of life.
Jobs are scarce in circus and living the life of gypsy performers is taking its toll. The Rosaires are acutely aware that their traditional way of making a living is slowly dying. However, they continue struggling to keep it alive because it's in their blood and it's all they know.
When tragedy befalls the family not once but twice, they decide to attempt what they've been unable to do for over 50 years - quit the road and create a family circus on their property in Sarasota, Florida.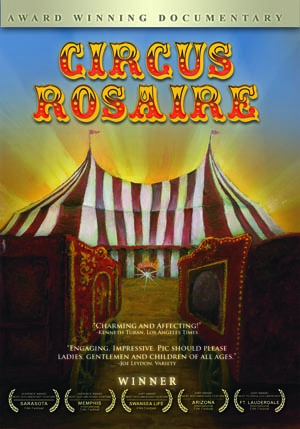 2-DISC SPECIAL EDITION DVD
Disc 1: "Circus Rosaire", documentary feature film

Disc 2: Bonus Features
- Rosaire Family Circus show under the big top in its entirety! You saw clips of it in the film, now see the entire 70 minute fun filled show!
- 5.1 surround sound
- Additional Scenes: Exclusive, never-before-seen additional scenes and interviews!
Subscribe to the CIRCUS ROSAIRE newsletter: